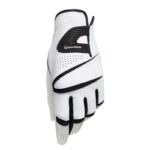 TM Stratus Sport Golf Glove ( Left Hand )
TM Stratus Sport Golf Glove ( Left Hand )
€20,00
The TaylorMade Stratus Sport golf glove is made from a premium leather to increase the feel, grip and fit.
This is the perfect glove to give you increased grip in all weather conditions. TaylorMade have used stretch lycra panels to enhance the fit of the glove as well as increase the gloves longevity.
Engineered perforations have been used to increase ventilation and breathability so that you are completely comfortable when wearing the Stratus Sport golf glove.
Product Features
Full premium leather
Stretch Lycra panels for custom fit
Engineered perforations for breathability
Ergonomic pull tab