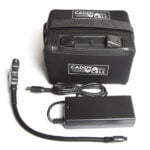 Caddy Cell Lithium Battery / Charger
Caddy Cell Lithium Battery / Charger
€269,00
Small, lightweight and long life. CADDY CELL Lithium batteries are a perfect alternative to all lead-acid or Gel batteries fitting any electric trolley. This battery will replace all lead-acid batteries on any leading golf trolley using the safest Lithium technology available on the market.At an affordable price.This is possibly the best upgrade to any existing electric trolley and you may never have to buy another battery again as it will last 10 x longer than a standard lead-acid or Gel battery and is the top grade Lithium.
►Caddy Cell Lithium 12V 26916Ah battery,
►Torberry adaptor cable,
►dedicated lithium charger,
►neoprene bag and warranty card.
In stock