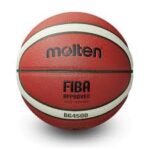 Molten BG4500 Basketball ( Game Ball ) Size 6
Molten BG4500 Basketball ( Game Ball ) Size 6
€85,00
There will be a brand new Molten ball for the 2020/21 Super League and National League seasons. The BG4500 will replace the GG6 and 7.
Feel the Grip, Control your Game
The new FIBA Approved BG4500 delivers twice the surface area in contact with your hand. Premium composite leather and a foamed rubber construction on Molten's 12-panel Giugiaro design too. You might not want to pass this one up.
Molten is dedicated to providing top of the line basketballs for FIBA, and the global basketball community. By combining innovative technology and superior craftsmanship, Molten continues to create products worthy of play by the world's most elite basketball stars.
Official Game Ball
This is the exact basketball that will be used in all BBL, WBBL, Basketball Scotland and Basketball Ireland tournaments, with the ball making its debut in the 2020/21 season. The BG4500 is made from a premium composite leather, benefiting from all the grip properties of real leather but with no need for bouncing in.
Less Slippery
The new surface texture gives the ball an optimum grip over traditional pebble grip basketballs, even when in contact with sweat or moisture.
The Original Leather Texture Surface area in contact with the hand is wider by 95% compared to that of conventional pebble surfaces for better grip.
Conventional Molten Pebble Surface Molten Original Leather Texture
Conventional Pebble Surface
Average texture top area @ 2.74mm2
Original Leather Texture Surface
Average texture top area @ 5.33mm2
Improved Grip Performance
The ball has been given an additional "foamed" layer when compared to previous models, making the ball softer and easier to control. The surface texture depth creates an ideal sweat wiping effect, allowing optimal grip even in that sweaty fourth quarter!
A 25% reduction in logo size, resulting in a larger area of grip on the surface of the ball.
Club & League Use
The BG4500 is used by the BBL, WBBL, Basketball Scotland and Basketball Ireland as their official game ball.
In stock
Additional information
| | |
| --- | --- |
| size | Size 5, Size 6, Size 7 |