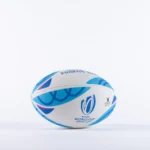 Gilbert Rugby World Cup Ball
Gilbert Rugby World Cup Ball
€30,00
Gilbert Rugby World Cup Ball
Perfect for children to have fun with their friends whilst showing off the tournament they strive for, or as a great desk accessory to liven up the office, this RWC 2023 Supporter Mini Ball appeals to all.
The official RWC 2023 Supporter Ball is designed to showcase the look and feel of the tournament – featuring the mobius graphic representing connection and daring tradition. The design uses the tournament colour palette to compliment the Official Replica design, and features a single colour event mark and work mark.
The RWC Supporter Balls are made with 2 ply construction, and have a grippy rubber compound surface essential for practising your skills at home. The balls are fitted with a synthetic latex bladder to ensure it remains inflated for the maximum length of time whilst whether on display or being used for backyard rugby.
In stock