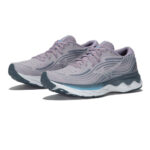 Mizuno Wave Skyrise 4 ( 24 )
Mizuno Wave Skyrise 4 ( 24 )
€140,00
Mizuno Wave Skyrise 4
For daily runners who like a floating sensation while running. You will feel like you are floating with this shoe designed for smooth runs. It features MIZUNO ENERZY for soft cushioning and high energy return. MIZUNO WAVE enhances the stability while still maintaining the floating feeling.
Stretch Woven Upper
Providing a soft, comfortable fit, the Wave Skyrise 4 Running Shoes have a stretch woven upper construction. The materials provide you with a stress-free hold around your foot, keeping your feet in a stable, secure position. Not only this, but the shoes ensure a consistent level of airflow is provided throughout your run, keeping your feet at a comfortable temperature from start to finish. The shoes are also moisture-wicking, meaning sweat and moisture will be wicked effectively, keeping your feet fresh. The shoes have a comfortable collar which raps smoothly around your ankle, preventing discomfort, chafing or irritation from occurring when wearing. A traditional lace-up system also provides you with a secure, locked-in fit and prevents in-shoe slipping from occurring.
Mizuno Wave Midsole
Inspired by nature, the Mizuno Wave midsole is the industry's most effective midsole technology. The Mizuno wave's unique shape dissipates impact forces away from the foot for a smoother, more cushioned feel with every step taken. Additionally, Enerzy Core is integrated into the construction of these shoes. Enerzy Core is Mizuno's new technology created to deliver a higher-than-ever energy return and softness. The midsole is a testament to Mizuno's drive to improve the performance of athletes around the world whilst also providing an overall more comfortable feeling.
X-10 Outsole
By using a combination of midsole and outsole technologies, the sole provides a fluid, rocking-chair-like transition and exceptional traction for total comfort and control. Strong grip and traction are guaranteed, as the Wave Skyrise uses X-10 carbon rubber. This outsole developed by Mizuno will provide you with an extremely durable grip to keep you in control and allows longer wear in higher impact areas, this will provide you with outstanding grip over a long course of time. The heel strike will additionally have a solid grip with a wide range of surfaces. Finally, as the foot hits the ground, SmoothRide kicks in with heel flex grooves promoting a natural back-to-front movement, which creates the rocking-chair effect.
Additional information
| | |
| --- | --- |
| size | 5, 5.5, 6, 6.5, 7, 7.5, 8 |