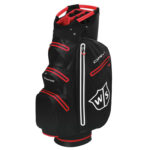 Wilson Dry Tech Golf Bag
€269,00
The Wilson Staff Dry Tech bag is made with a sturdy polyester fabric with a protective PU coating, with a matching rain hood ensuring that your clubs and gear stay dry in the wet.  Importantly the zips are waterproof meaning water does not seep through thanks to a hot melt stitch line.
The bag has a large 14 way top (9" x 11") with four full length dividers, including an oversize pit for large handled putters.  The top features three integrated grab handles to make it easier to mount onto a push trolley or electric cart.
There are seven zipped pockets in total (all waterproof) with two full length side apparel pockets a large front ball pocket, valuables pocket and three accessory pockets.  Although the valuables pocket is waterproof I wouldn't recommend putting it to the test by leaving an expensive phone in their during heavy rain.
Given our Irish climate a waterproof bag is definitely worth considering as you never know when the heavens will open or how changeable our weather can be.
In stock