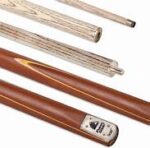 Powerglide Target 2 Piece Cue
Powerglide Target 2 Piece Cue
€50,00
Powerglide Target 2 Piece Cue
The Powerglide range of snooker cues uses the latest manufacturing technology and the best quality materials.
Enhanced grain ash shafts provide consistent strength, power and performance.
The matching straight grains with clear feathering aids players lining up their shots.
The Rosewood but features coloured vaneers that add style and elegance to the cue.
Complete with precision engineered quick release brass joints providing minimal turn to lock into a positive closure.
In stock