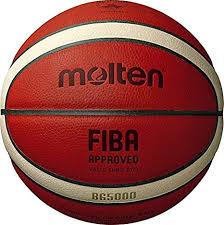 Molten BG5000 Basketball ( Size 7 )
Molten BG5000 Basketball ( Size 7 )
€120,00
Molten is dedicated to providing top of the line basketballs for FIBA, and the global basketball community. By combining innovative technology and superior craftsmanship, Molten continues to create products worthy of play by the world's most elite basketball stars. The Molten ® BG5000 FIBA Official Basketball is the exact basketball used in all FIBA tournaments, with the ball making its debut at the 2019 Basketball World Cup. The BG5000 leather basketball can be used when brand new in both practice and games. The new premium leather allows the ball to be used without the need for 'bouncing in'!
Features
The new surface texture gives the ball an optimum grip over traditional pebble grip basketballs, even when in contact with sweat or moisture.
Foam concentration has been increased by 35% and an EVA foam backing layer has been applied, making the ball softer and easier to control.
All lettering design on the BG5000 is branded into the ball to offer an authentic look to the natural leather basketball.
BG5000 takes full advantage of the natural leather properties to ensure better texture and offering more consistent grip in these segments of the ball.
Supplied inflated.
Specification
Usage – FIBA Official Game Ball.
Cover Material – Premium Real Leather.
Original Leather Texture Surface – Yes.
High Foam Structure – Yes.
Branding Print – Yes.
Construction/Technology – 12 Panel Giugiaro.
Bladder – Butyl.
Playing Surface – Suitable for Indoor play.
3 in stock