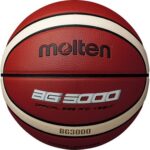 Molten BG3000 Basketball ( Size 6 )
Molten BG3000 Basketball ( Size 6 )
€45,00
Molten BG3000 Basketball
The top new indoor/outdoor ball for 2020/21
Feel the Grip, Control your Game
Molten is dedicated to providing top of the line basketballs for FIBA, and the global basketball community. By combining innovative technology and superior craftsmanship, Molten continues to create products worthy of play by the world's most elite basketball stars.
Indoor or Outdoor, the new BG3000 is a training ball designed to perform no matter where you play. Encased in hard-wearing synthetic leather and available in Size 7 (Official size and weight), Size 6 & Size 5, it's tough no matter what you throw at it, big or small.
Eye-Catching & Practical Design
Patented 12-panel Giugiaro design. Giorgetto Giugiaro, the creator of Molten's signature GIUIGIARO design and one of the top industrial designers in the world, strives to integrate utility and Italian beauty in his work. This innovative design was created by combining Molten's innovative technology with his artistic vision.
The eye-catching 12-panel design offers the best visibility, and fingertip control, during play, passing, tackling, stealing, and shooting.
Less Slippery
The new synthetic leather surface texture gives the ball an optimum grip over traditional pebble grip basketballs, even when in contact with sweat or moisture.
The Original Leather Texture Surface area in contact with the hand is wider by 95% compared to that of conventional pebble surfaces for better grip.
Conventional Molten Pebble Surface Molten Original Leather Texture
Conventional Pebble Surface
Average texture top area @ 2.74mm2
Original Leather Texture Surface
Average texture top area @ 5.33mm2
Natural Leather Texture
BG3000 basketballs take full advantage of the natural leather texture by offering a more consistent grip in these segments.
1 in stock
Additional information
| | |
| --- | --- |
| size | Size 5, Size 6, Size 7 |