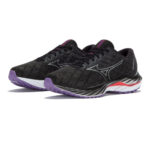 Mizuno Wave Inspire 19 ( 22 )
Mizuno Wave Inspire 19 ( 22 )
€150,00
Mizuno Wave Inspire 19
The Mizuno Wave Inspire 19 is a well-cushioned supportive road running shoe for everyday training featuring special upgrades. A completely new wave plate now offers support, to decrease the over-pronation of the foot.
AIRmesh Upper
Constructed using an AIRmesh upper, the Wave Inspire 19 provides the utmost breathability and comfort. Ensuring a constant supply of airflow, the design of the upper keeps you cooler and drier for longer, especially during tough runs. The Wave Inspire 19 is tailored to fit like a glove, it works to adapt to the gait cycle allowing for a more personalised, seamless fit as you strive for new PB's. A recycled PET shoelace, lacing system looks the midfoot down to prevent excessive movement and makes it easy to secure a comfortable fit. As well as this, a soft and padded tongue and ankle collar will reduce the risk of irritation caused by rubbing and chafing.
Mizuno Enerzy Midsole
A combination of highly technical fabrics and constructions provide you with enhanced comfort and cushioning. The main technology enhancing the performance of the midsole is the Mizuno Enerzy, which is soft and responsive, ensuring it provides a soft and propulsive cushioning. Mizuno Enerzy has been developed with the mission to enhance performance capacity and guarantee that athletes retain more of the energy that they put in, all whilst providing an overall more comfortable feeling. The redesigned anatomically shaped Mizuno Wave plate works in perfect tandem with Mizuno Enerzy to give your foot support, preventing excessive inward movement at the ankle, and keeping your body in a natural straight alignment.
X-10 Carbon Rubber Outsole
The outsole of the Inspire 19 has been made using X-10, the most durable carbon rubber which allows for longer wear in high impact areas and supplements traction at the heel. This helps to lessen the impact placed on the knees and joints, allowing for a more comfortable ride as well as optimising gait efficiency. The outsole also ensures maximum grip and traction for a firm, assured footing so you can run with confidence and push yourself to the limit, time and time again. SmoothRide technology also resides in the outsole and works with the midsole to provide a fluid, rocking-chair-like transition. As the foot hits the ground, SmoothRide engineering kicks in with heel flex grooves promoting a natural back-to-front movement. The forefoot flex grooves and flex controllers then work together to continue the smooth forward motion resulting in an efficient fluid motion that allows runners to harness their power.
Additional information
| | |
| --- | --- |
| size | 5, 5.5, 6, 6.5, 7, 7.5, 8 |